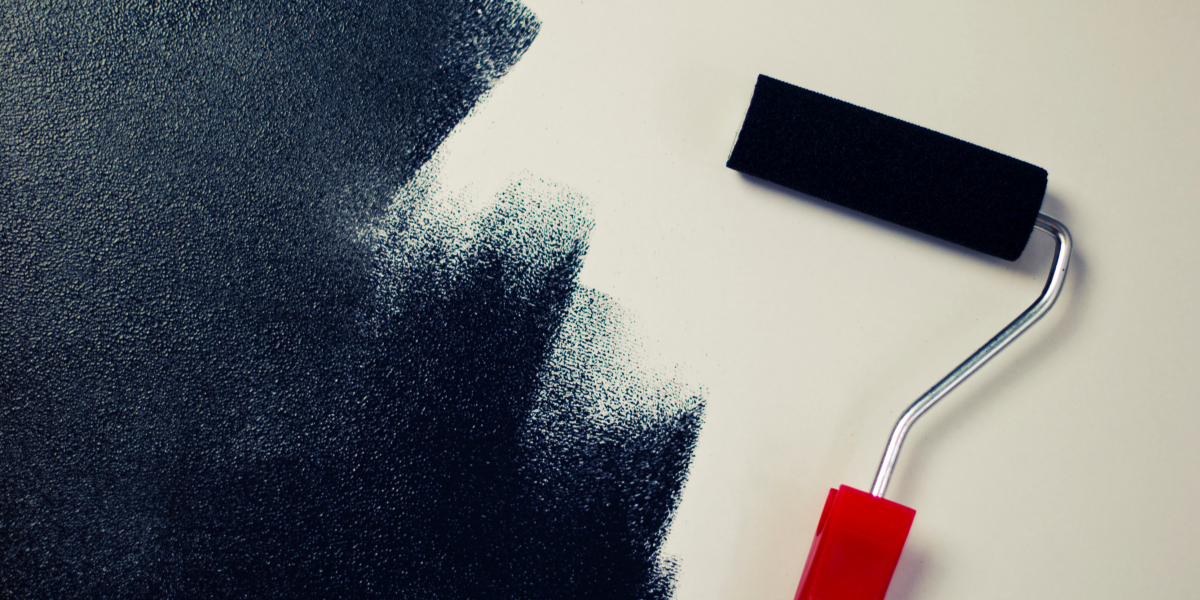 Spring is here, and if you're feeling the ho-hum of the same ol' same ol' room, a fresh paint job might be just the thing to do. But don't settle for just a new block of color; try these paint and pattern ideas to breathe some fresh life into any part of the house.
01 Paint a colorful design on the floor.
All too often a beautiful house can be brought down with a boring foyer or entryway. Before you begin painting the floor or laying tiles down, be sure to measure out the total space you're working with; it's most important to be sure that your pattern is evenly distributed across your floor. This will ensure that your pattern is a comfortable design. An uneven design can be uncomfortable.
02 Paint your ceiling a bold color
All too often we think that only the walls can be painted. You may not live in the Sistine Chapel but don't let that stop you from considering a pop of bold color on your ceiling. As a general rule of thumb, a ceiling that's darker than the walls feels lower. A ceiling that's lighter than the walls feels higher. If you're claustrophobic, fear not: lower ceilings often just feel cozier, not cramped.
03 An oversized pattern
Next time you're looking for an accent wall, scrap the red paint and throw away the wallpaper. Consider an oversized pattern on your wall to add a pop of drama. There's a lot of ways to achieve this, but the best way is to get inspired by an image, and try your hand at sketching it on the wall. If you're not great at freehanding, take a trip to your local arts and crafts store and look for oversized stencils.
05 Horizontal stripes?
In a big room, horizontal stripes can shrink the perceived size of a room. Believe it or not, in a smaller room, the opposite happens. If you read our blog post about color schemes, you'll remember that analogous colors are two colors that are similar to each other. A big, wide, stripe that's analogous to the room's primary color pushes out smaller walls. Use this for small bathrooms and even some bedrooms for a magical 'expanding' trick.
06 Chalk it up
Chalk walls are becoming an increasingly popular addition to a lot of homes, rooms and even kitchens. The easiest way to create a chalk wall is to purchase chalkboard paint, and go to town. I decided to paint a boring wall in my kitchen with chalk paint; its become a seasonal blank slate. Every few months, I take some oversized chalk and create seasonally relevant art. Believe me, if you don't have a hair of artistic talent in your body, invite over your friends who do. They'll be happy to create some art.
07 Two tone checkerboard
Using the same analogous color scheme we talked about in option 05, consider creating a checkerboard pattern on one or two of your walls. You can alter the squares to avoid partial squares. Our recommendation if you plan on doing this is to use 'soft lines' as you mark off each section. Soft lines are hand drawn without a straight edge to give you a softer more natural look.
Finally, consider using this pattern in a dining room or kitchen; a place where people will meet and commune. Avoid using it in a bedroom.
08 Use bamboo to accent your beige
It's not quite white, but it's not quite its own color… it's kind of like a dirty white. Beige is probably one of the most boring colors for home decor, but it doesn't have to be. Using interesting beige This can be with wood planks or with bamboo shafts. For a little bit of interest, be sure to get different width and shaped (and even colored) pieces.
09 Carpetless Runners
Paint can do incredible things, including doubling as a runner for hallways and stairs. Come up with a cool design or pattern (or get inspired online), then with all things – plan it out. Using chalk or pencil, sketch it out on the floor. Be sure to plot out the dimensions so that your pattern distributed evenly. Once you lock down your pattern, paint it on, and allow it to dry. It's always prudent to apply a few layers of paint.
Finally, lock in and protect your work by applying several coats of polyurethane. The first to be glossy and the last matte. This will help your paint stay in place for many 'feet' to come.
10 Turn old mismatched furniture into a set
Before throwing away your old chairs, give them a little life by making them match. Strip away old paint and apply a few layers of a new color to make them match. If you're feeling incredibly artsy, feel free to make add a pop of pattern (even different patterns).